Helmets to Hardhats and the Office to Advance Women Apprentices celebrate International Women's Day by reaffirming their partnership to attract more females into the skilled trades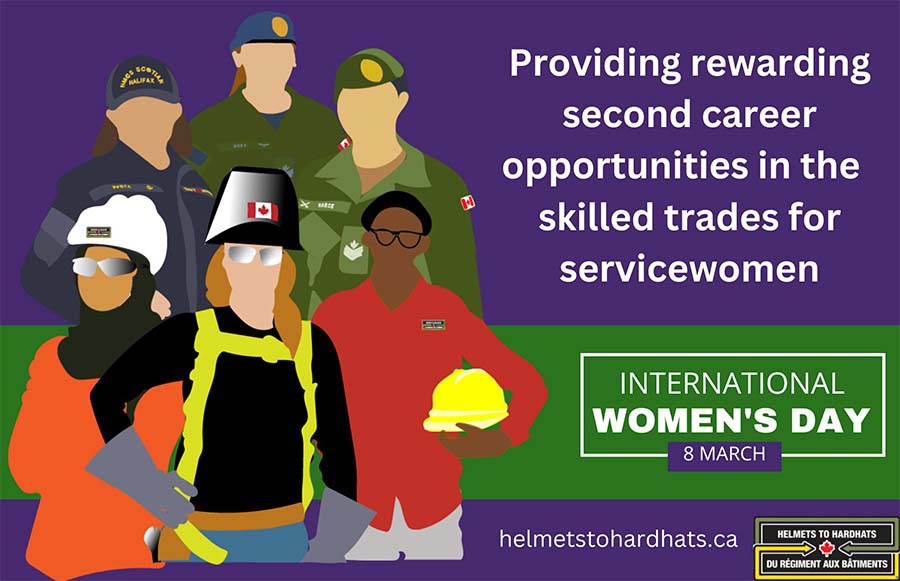 For Immediate Release: March 8, 2023- Ottawa
In recognition of International Women's Day, Helmets to Hardhats (H2H) and the Office to Advance Women Apprentices (OAWA) are reaffirming their commitment to support women in service to find rewarding second careers in the skilled trades. Today, on International Women's Day, we celebrates the achievements, contributions and sacrifices that women and girls have made around the globe to help shape the world we live in today, while reflecting on the work that stills needs to be done to advance gender equality.
Canada is up against a tight timeline to recruit, hire, train and retain skilled trades workers as the government predicts that 700,000 skilled trades workers are expected to retire by 2028. To counteract the ageing demographic of the workforce, the construction industry needs to recruit 309,000 new workers over the next decade. H2H and OAWA believe that Veterans are one under-utilized demographic that will be part of the solution to fill these critical labour shortages. The above groups' combined efforts aim to develop a diverse and inclusive skilled trades workforce, including outreach directed toward female Veterans. It is an effort to keep building Canada, into a brighter and more inclusive future.
Statistics Canada states only five percent of skilled trades workers in Canada are women. The organizations H2H and OAWA are committed to spreading awareness among female Veterans about the rewards of a career in the skilled trades, such as - benefits and pension plans, financial stability, personal and professional growth opportunities and job stability.
Veterans Affairs Canada also supports these outreach initiatives with funding from the Veteran and Family Well-Being Fund. To date, the targeted outreach efforts have welcomed 59 new individuals into the Helmets to Hardhats program. As of International Women's Day 2023, H2H has reached 41% of their recruitment goal of women and gender-diverse individuals into the skilled trades. By March 2024, H2H aims to accomplish their goal of referring 150 participants to the skilled trades, therefore aiding in the successful transition, financial stability and increased visibility of underrepresented groups within the skilled trades.
Many new Helmets to Hardhats clients have connected to us through our partnership with OAWA. Including Diana Scott, a military Veteran who served as a Naval Signalman in the Royal Canadian Navy. She is now looking for work as an Industrial Mechanic – Millwright in Newfoundland and Labrador. Diana is 1 out of 22 women who have recently registered with Helmets to Hardhats to start a new career in the skilled trades. H2H and OAWA are hopeful that this partnership will lead to additional female Veterans joining the skilled trades.
H2H and the OAWA believe that all Canadians have a role to play in breaking down barriers and biases to ensure that all women, girls, and gender-diverse individuals have the chance to find success in the skilled trades. The work of H2H, OAWA and Canada's 14 Building Trade Unions will pave the way for future generations of diverse skilled tradespeople.