Helmets to Hardhats Canada
DND 404 Equivalency Programs
A partnership between the Canadian Armed Forces and the Provincial/ Territory Ministries of Transportation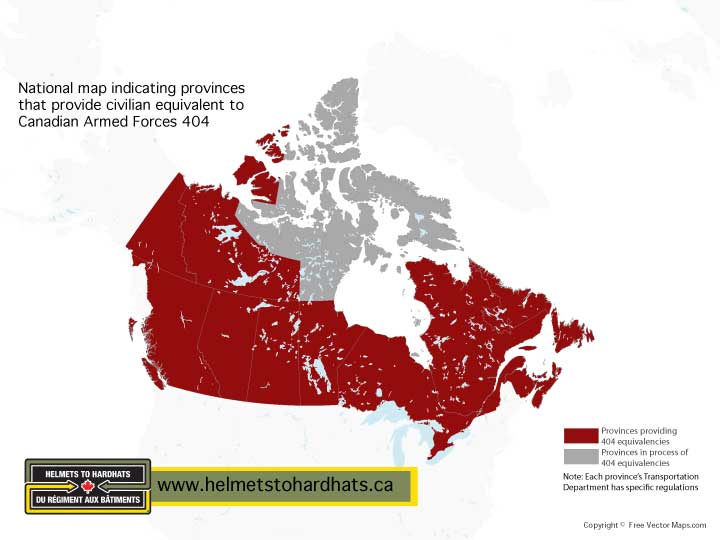 For over two years, Helmets to Hardhats (H2H)® Canada has been at the forefront of engaging provincial and territorial governments, and their bureaucracies, in accrediting the DND 404 driver's licence for their commercial class equivalents. Working closely with J4 Transport, Teamsters Canada and the Building Trades Unions, this initiative provides eligible serving and retired military vets with the opportunity to obtain immediate employment and pursue a solid career in the commercial trucking industry amongst other commercial driver options.
Through the auspices of the Canadian Council of Motor Transport Administrators (CCMTA), which has representatives from every provincial and territorial licencing authority, H2H and J4 Transport have been liaising with each of these jurisdictions to raise the priority of this initiative and assist them in developing an implementation plan. Part of these plans are to introduce processes that allow recently retired, or currently serving military members, to transfer their DND 404 related qualifications onto their provincial license without additional training or testing.
Unfortunately, there is no universal formula since each province and territory has a unique process that must be followed and respected, and as such, we have seen different guidelines regarding timeframes for eligibility as well as other minor differences. To help you determine the process and guidelines applicable to your location, we invite you to view the participating provincial annexes, which describe the way to do to transfer your DND 404 qualification onto your provincial/territorial license.